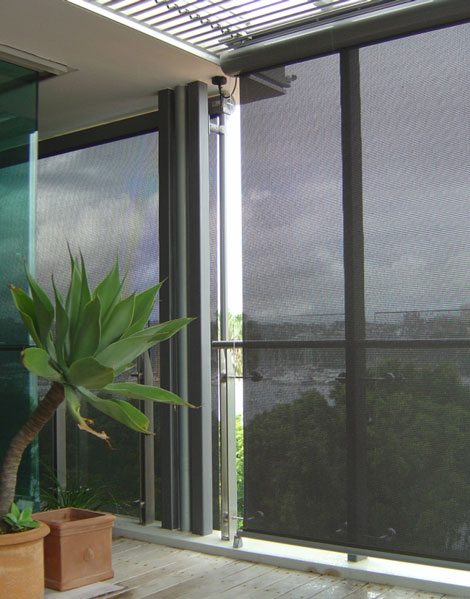 external products
Roller Blinds by Markilux
Markilux combines German efficiency and engineering to offer a wide range of specialized roller blinds to deal with every type of commercial or domestic installation.
Motorisation is by Somfy and hardware can be powder coated to any RAL colour as specified with extra corrosion protection finishes available as required.
This exclusive range from Markilux includes a variety of options with guide wires, side rails, side channels along with automated drop arm awnings and Markisolette type systems. The range also offers the unique 760/860 Series, a fabric tensioned roller system which is specially designed for high wind conditions.
Find out more about Markilux.
external rollers by markilux®
product
code
min/max
sizes
linking
blinds
headbox
min. bulkhead
clearance
710
70-500cm
2
9.5x9.5cm
13.5x13.5cm
810
71-500cm
2
12.5x11.7cm
15.5x16.5cm
720
71-300cm
2
9.5x9.5cm
13.5x12.5cm
820
71-300cm
2
11.5-11.7cm
12.5x14.5cm
730
75-700cm
no
9.5x9.5cm
13.5x13.5cm
830
75-700cm
no
12.5x11.7cm
15.5x14.5cm
740
75-300cm
2
9.5x9.5cm
11.0x15.5cm
840
75-300cm
2
11.5x11.7cm
12.5x15.5cm
750
74-500cm
2
9.5x9.5cm
13.5x13.5cm
850
74-500cm
2
12.5x11.7cm
15.5x16.5cm
760
62-405cm
no
9.5x9.5cm
13.5x13.5cm
860
62-405cm
no
11.5x11.7cm
14.0x13.5cm
700 series rollers have a square head box
800 series rollers have a round head box

Operational Function
710/810 Side guide wires
720/820 Side rails
730/830 Drop Arm awning with gas piston pivot arm
740/840 Markisolette roller with angled side rails + gas piston tensioned arms
750/850 Stainless steel guide rods, suited to windy locations
760/860 Fabric tensioning system, which maintains tension on the fabric during windy conditions and acts as a wind barrier device
© 2009-2018 MODULAR SHADES + SHUTTERS · 53 Carrington Street Nedlands Western Australia 6009 · +61 8 9386 2211 · info@modularshades.com.au