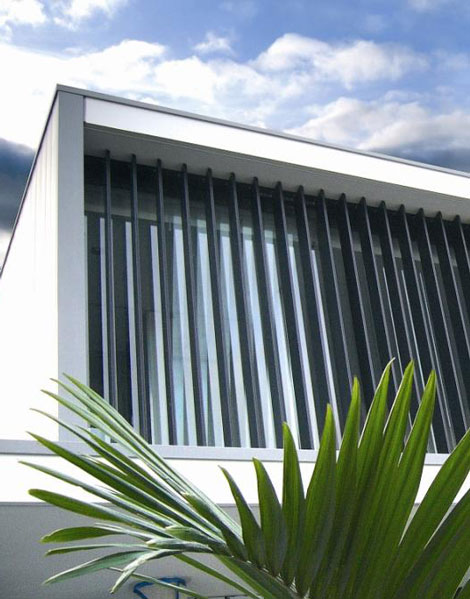 external products
Louvreline
The Louvreline approach is a new concept in operable wall panels. Unlike a standard louvre system this elegant vertical louvre systems allows you to control the light and view from a side angle.
There are two styles of Louvreline systems, the Flush Panel where the louvres have square edges and close to create a flat wall and the Weatherboard where the louvres have angled edges and close create a stepped effect.
If you are an Architect, Building Designer and/or Builder and would like a catalogue for your library, please contact Modular to request your copy.
spans for vertical louvres

| louvre type | inside | Low | Med | high | vhigh | specs |
| --- | --- | --- | --- | --- | --- | --- |
| 125 Weatherboard | 310cm | 290cm | 270cm | 250cm | 230cm | |
| 180 weatherboard | 370cm | 350cm | 320cm | 285cm | 265cm | |
| 120 flush panel | 310cm | 290cm | 270cm | 250cm | 230cm | |
| 200 flush panel | 470cm | 445cm | 405cm | 350cm | 310cm | |
wind zones defined
wind zone
Low
Med
high
vhigh
factored wind speed at building
32 m/s -
115km/h

37m/s -
133km/h

44m/s -
158km/h

50 m/s -
179km/h
ultimate limit state loads [kPa]
+1.1
-1.38
+1.48
-1.85
+2.09
-2.61
+2.70
-3.38
© 2009-2023 MODULAR SHADES + SHUTTERS · 53 Carrington Street Nedlands Western Australia 6009 · +61 8 9386 2211 · info@modularshades.com.au